Dear all,
I try to build an urban mesh with multiple building obstacles with Salome and its python capabilites.
I have created a GeoDataFrame that I can convert to a shapefile. It contains :
polygons representing the buildings with their height
a filling polygon representing the ground with a height of 0.
I want to import it in Salome and build a 2D mesh from it and extrude building to model a city mesh.
My geodataframe when I plot it look like this :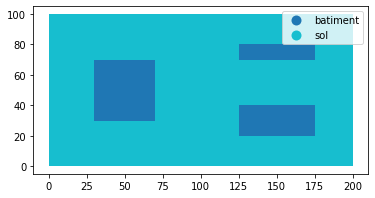 Anyone can help me on how to import it in Salome and meshing it ?
Best regards,
Roman
PS : The old forum is not accessible yet (April 2022). It has been months now. That is why I posted my message here. Excuse me for any redundancy with previous forum.