Hi all,
I'm using SALOME 9.8 to create a partitioned and grouped geometry (no meshing involved). The partitioning takes up too much RAM (~80G) and too much time (~24H) so I had to launch my Python script on an AWS machine with Ubuntu 20.04 using the command:
salome -t my_salome_script.py &

My geometry contains a fleet of cars, I've tested my Python script with 48 cars, the whole computation finished successfully and the HDF file was saved without any issue. Then I relaunched the script with 192 cars, the partition and grouping finished in about 24 hours, but then I've waited for another 10+ hours, the HDF file is just NOT saving! You can see from my htop sceenshot that SALOME processes are still taking up RAM space but they are just idling without returning any kind of error message.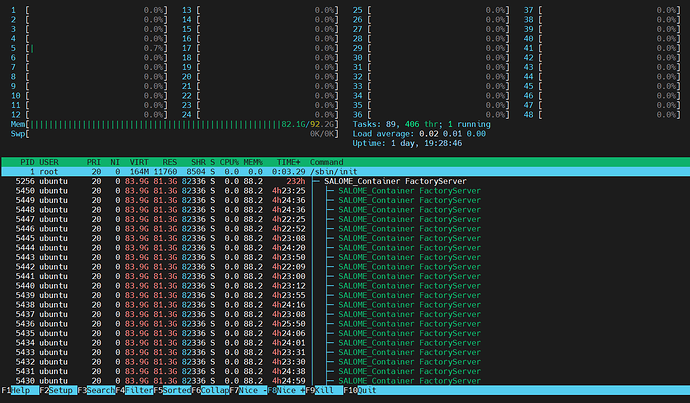 The HDF file with 48 cars has a size of 230M, so the 192-car version shouldn't take up more than 1G, I think I have enough space on my disk, so I don't understand why the HDF won't save.
SALOME is still idling on my AWS server as I type this post and it's costing me money, so any suggestions will be much appreciated.
Thanks!