Hello
I'm using Salome to mesh a computational domain for a simulation that captures ultrasound. At its simplest case, my computational domain is a sphere of 100 mm with a core of 5mm.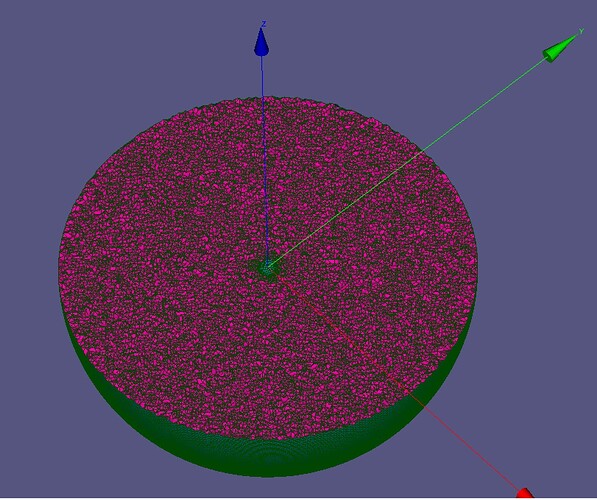 I am using the NETGENPLUGIN to create a tetrahedral mesh for a 3D geometry. To capture the physical phenomenon with the required precision I found that the mesh elements maximum size should be 0.8. I also parameterized it so that it is very fine and second order.
NETGEN_1D_2D_3D = Mesh_1.Tetrahedron(algo=smeshBuilder.NETGEN_1D2D3D)
NETGEN_3D_Parameters_1 = NETGEN_1D_2D_3D.Parameters()
NETGEN_3D_Parameters_1.SetMaxSize( 0.8575 )
NETGEN_3D_Parameters_1.SetMinSize( 0.1616 )
NETGEN_3D_Parameters_1.SetSecondOrder( 1 )
NETGEN_3D_Parameters_1.SetOptimize( 1 )
NETGEN_3D_Parameters_1.SetFineness( 4 )

I tried to compute the mesh on a high-end graphics card laptop but Salome has been stuck processing for well over 24h. If I change max size to 1.8 the mesh computes in ~11m.
So I have a few questions:
a) Can I compute a mesh with max size < 1.0? The numeric text entry indicates this is a valid number but will a complex geometry compute succesfully and under a reasonable time?
b) If understood correctly, salome doesn't work with absolute units. Would scaling up the model one order of magnitude, including the mesh size (to max = 8 and min = 1) a valid workaround dependending on how I could configure the scaling of the simulation?
c) My model will increase in complexity with smaller geometries populating the sphere. Can I make use of parallelisation to break down the meshing process, compute submeshes and perhaps reassemble them to output one single mesh? Any pointer about how to go with this would be appreciated
Many thanks,
Francisco