Hello there,
I wish to achieve this mesh: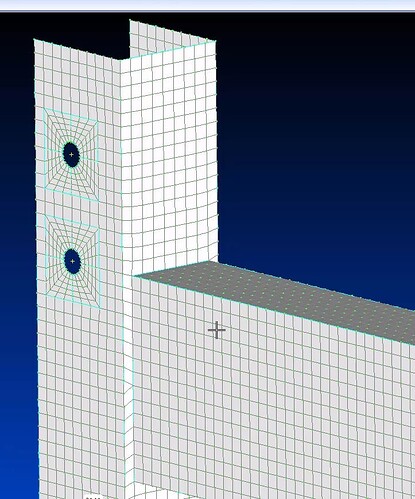 I'm trying to get a nice coherent quad mesh between 2 separate shell models, but the nodes dont seem to align, no matter what i do. The model was created in a CAD software as surfaces, then imported into SALOME as a .step file. Running a quick-and-dirty Netgen 2D-1D with max of 5mm and min of 3mm.
I've spend the last 3 hours reading up on the docs, and watching videos on youtube, but i'm unable to get anything better. I've tried creating a sub-mesh with similar parameters, but then for the 1D algorithm setting the "Propagation of node distribution on opposite edges", for the vertical beam.
I have had success with mapped hex meshing on solids before, by dividing faces with the partition feature, but for some reason i cant seem to use many of the features in the SHAPER module for my shell.
So…
How would you recommend i approach this problem to get the above mesh?